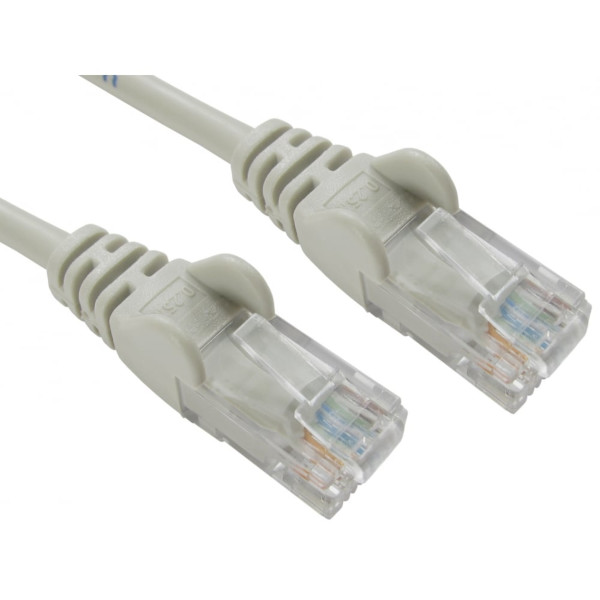 RJ45 CAT5e CCA Indoor UTP Lead
Item Code : RJ45-5e-CCA-PVC-UTP-GRY-0.5M
Special Notice: Leads from 0.5 to 30 Meters, Prices from £0.83p
Special Notice: Leads from 0.5 to 30 Meters, Prices from £0.83p
Product Details
JW Hardy

RJ45 Ethernet Equipment Lead.
JW Hardy - RJ45 CAT5e CCA Indoor UTP Lead
Item Code: RJ45-5e-CCA-PVC-UTP
Brand: JW Hardy
Manufacturer: .
Description
These leads are designed for Ethernet Cabling System, utilizing Category 5 Enhanced cables with stranded CCA (Copper Clad Aluminum) wires in an Indoor use PVC sheath.

These leads with CCA wire cores are not suitable for POE (Power Over Ethernet) or any other Power Delivery needs, Note: Power Delivery needs are best suited to Cables with copper wires.
These leads are pre-terminated to RJ45 Plugs and comply with the TIA/EIA Enhanced Category 5 specifications and will meet the needs of Ethernet systems to the CAT5e Specification.
These leads are supplied in convenient lengths of:- 0.5, 1, 2, 3, 5, 10, 15, 20 and 30 Meter lengths.
Features
100 ohm
PVC Sheath
Sheath Colour Light Gray
Specification
Mechanical Specification
Conductors:
Stranded Copper Clad Aluminum.
Sheath:
5mm diameter; PVC
Sheath colour:
Light Gray.

Electrical Specification
Characteristic
Impedance:
100 ohm