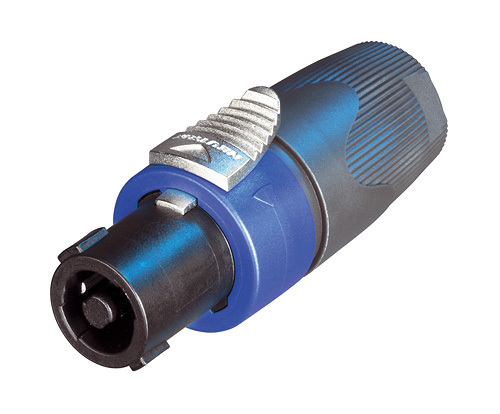 SpeakON - Inline Socket 4 pole, cable screw or solder fix - NL4FX
Item Code : SpeakON - Inline Socket 4 pole, cable screw or solder fix - NL4FX
Product Details

Loud Speaker Connection Patch Panels
Neutrik - SpeakON - Inline Socket 4 pole, cable screw or solder fix - NL4FX
Item Code: SpeakON - Inline Socket 4 pole, cable screw or solder fix - NL4FX
Brand: Neutrik
Manufacturer: Neutrik
SpeakON - Inline Plug 4 pole, cable solder fix - NL4MP
Description
NL4MP 4 pole chassis connector, black D-size flange, countersunk thru holes, 3/16" flat tabs The speakON panel mount connectors are the standard chassis connectors for loudspeaker / amplifier interconnections. They feature a unique metal locking system, making contact only once fully locked. The speakON receptacles are robust, versatile and easy to terminate.
Features
Current rating 40 A rms continuous
Up to 50 A audio signal, duty cycle 50%
Only 3 parts, easy to assemble
High impact materials - long-lasting and reliable
Easy and extremely precise locking system "Quick Lock"
Improved grip on latch
1 piece strain relief, chuck for 7 to 14.5 mm cable O.D.
Color coding possible
Improved screw-type termination for highest pull-out force
Integrated design guarantees "Made by Neutrik®"
Technical drawing of SpeakON - Inline Socket 4 pole, cable screw or solder fix - NL4FX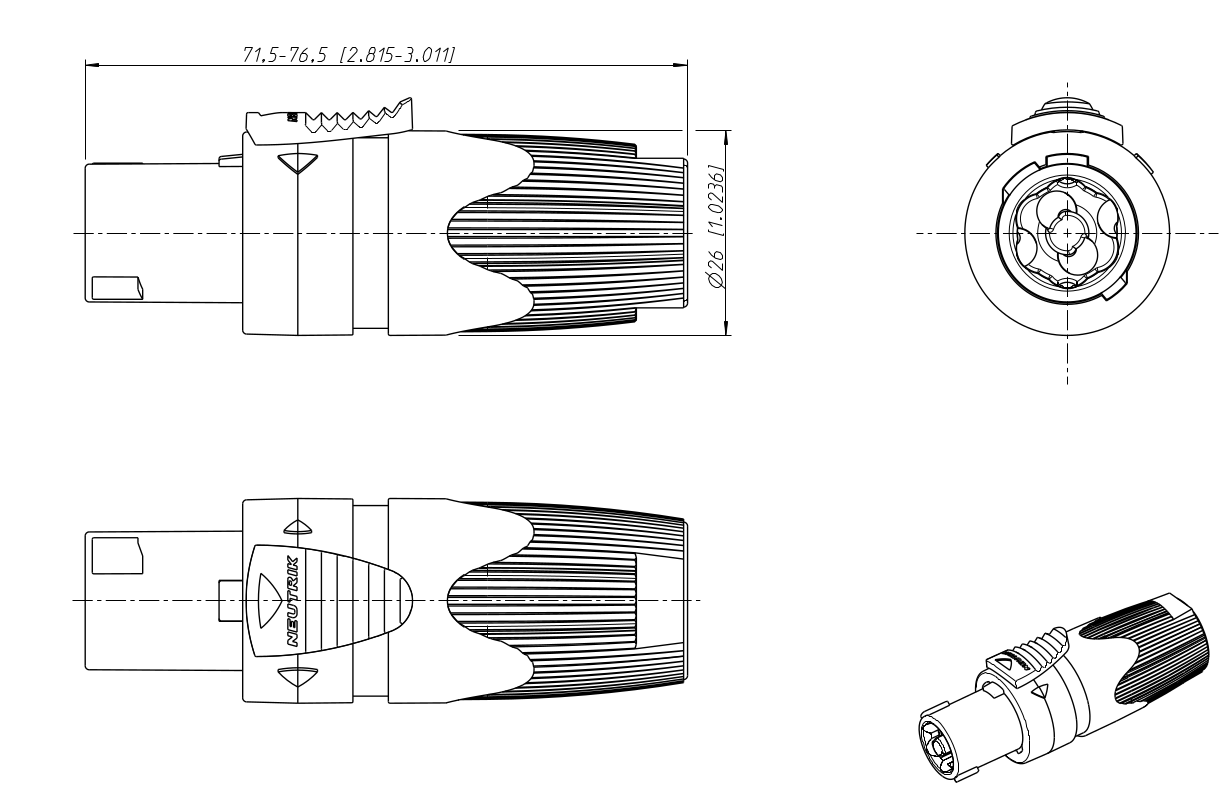 Specification
| | |
| --- | --- |
| Product | |
| Title | NL4FX |
| Connection Type | speakON |
| Gender | female |
| | |
| --- | --- |
| Electrical | |
| Contact resistance | < 2 mΩ (after lifetime) |
| Dielectric strength | 4 kVdc (peak) |
| Insulation resistance | > 1 GΩ (after dampheat) |
| Rated current per contact | 40 A rms continuous |
| Rated current per contact | 50 A audiosignal, duty cycle 50 % |
| Rated voltage | 250 V (Insulation) |
| Attention | speakON is NOT to be used as an AC mains or power supply connector! |
| | |
| --- | --- |
| Mechanical | |
| Cable O.D. | 7 - 14.5 mm |
| Cable retention | ≥ 220 N (subject to cable O.D. and material) |
| Lifetime | > 5000 mating cycles |
| Wiresize | 4 mm² / 6 mm² (screw type terminals/soldering) |
| Wiresize | 12 AWG / 10 AWG |
| Wiring | screw type terminals or soldering |
| Locking device | Quick Lock (latch) |
| | |
| --- | --- |
| Material | |
| Contact plating | 4 µm Ag |
| Contacts | Brass (CuZn39Pb3) |
| Insert | PBTP 20 % GR |
| Locking element | Zinc diecast (ZnAl4Cu1) |
| Shell | PBTP 20 % GR |
| Strain relief | Polyacetal (POM) |
| | |
| --- | --- |
| Environmental | |
| Flammability | UL 94 HB |
| Solderability | Complies with IEC 68-2-20 |
| Temperature range | -30 °C to +80 °C |