Product Details

HDMI Switch
Kramer - Kramer - 2 x 1 4K HDMI Switch.
Item Code: VS-211UHD
Brand: Kramer
Kramer - 2 x 1 4K HDMI Switch.
Description
The VS−211UHD is an automatic switcher for 4K@60Hz (4:2:0) HDMI and analog audio signals. The VS−211UHD automatically switches one of two HDMI inputs to a predefined or last connected input whenever the currently active video signal is interrupted or whenever a higher−priority video signal is detected.
Features
Max. Data Rate — 8.91Gbps (2.97Gbps per graphic channel).
Max. Resolution — 4K@60Hz (4:2:0).
Compliance — HDMI 1.4, HDCP, and DVI 1.0.
HDMI 1.4 Support — Deep Color, 3D, up to 7.1 uncompressed audio channels, ARC (supported on Input 1 only).
HDTV Compatible.
Customized Audio Output — Embed a companion analog audio signal into its HDMI input signal, de–embed the audio from the HDMI input and route it to the balanced stereo audio line out, de–embed HDMI ARC from the output and route it to the balanced stereo audio line out, or route the analog audio inputs directly to the stereo audio line out.
Automatic Video Input Detection & Selection.
Auto Power Off — When no HDMI input for 10 seconds (selectable).
Step–In Over HDMI Technology.
Active Switching — Selectable manual or fast auto switching according to last connected or preset priority.
Selectable HDCP Switching.
EDID Configuration Options.
Default EDID.
Contact Closure — For remote manual switching override.
Lock Button.
Firmware Upgrade — Over RS–232, mini–USB.
Software Support — Protocol 3000, EDID Designer, K–Upload via RS–232.
Varied Control Options — Front panel buttons, contact closure, IR, RS–232 Protocol 3000.
Easy Installation — Compact MegaTOOLS® fan–less enclosure for surface mounting or side–by–side mounting of 2 units in a 1U rack space with the recommended rack adapter.
Kramer 2x1 4K HDMI Switch VS-211UHD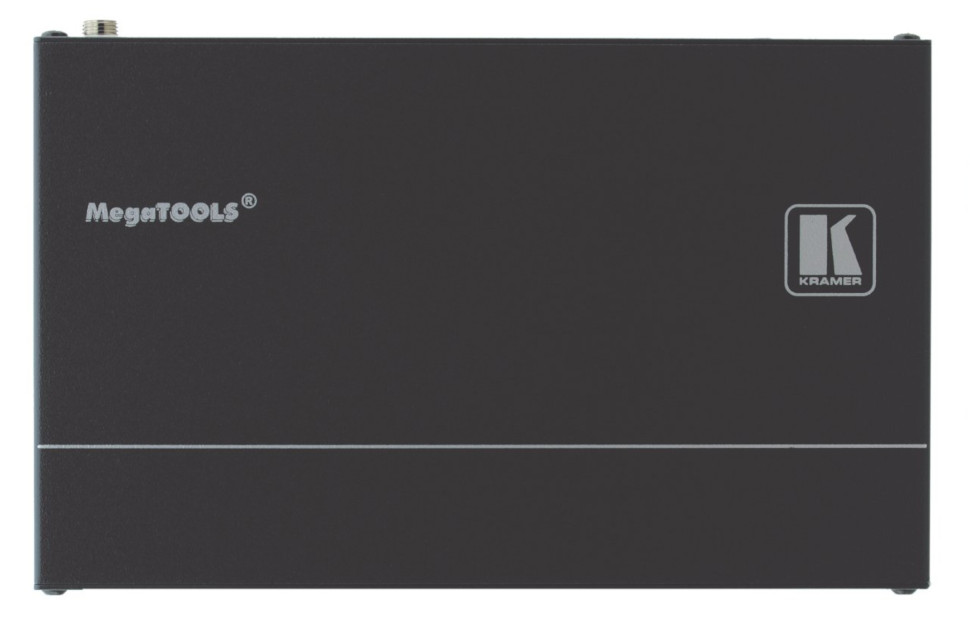 Specification
| | | |
| --- | --- | --- |
| INPUTS | | 2 HDMI connectors, 2 unbalanced stereo audio on 3.5mm mini jacks |
| OUTPUTS | | 1 HDMI connector, 1 balanced stereo audio on 5–pin terminal block |
| PORTS | | 1 RS–232 on a 3–pin terminal block, 1 mini USB for programming |
| COMPLIANCE WITH HDMI STANDARD | | HDMI 1.4, Deep Color, 3D, ARC, up to 7.1 uncompressed audio channels, CEC |
| MAX DATA RATE | | 8.91Gbps (2.97Gbps per graphic channel) |
| SUPPORTED RESOLUTIONS | | Up to 4K x 2K, 4K@60Hz (4:2:0) |
| CONTROLS | | Front panel buttons, contact closure, IR, RS–232 Protocol 3000 |
| SOFTWARE SUPPORT | | Protocol 3000, EDID Designer, K–Upload |
| POWER CONSUMPTION | | 5V DC, 500mA |
| OPERATING TEMPERATURE | | 0° to +40°C (32° to 104°F) |
| STORAGE TEMPERATURE | | –40° to +70°C (–40° to 158°F) |
| HUMIDITY | | 10% to 90%, RHL non–condensing |
| INCLUDED ACCESSORIES | | Power adapter, IR remote control |
| Product Dimension | | 18.75cm x 11.50cm x 2.54cm (7.38" x 4.53" x 1.00" ) W, D, H |
| Product Weight | | 0.4kg (0.9lbs) approx. |
| Shipping Dimension | | 34.50cm x 16.50cm x 5.20cm (13.58" x 6.50" x 2.05" ) W, D, H |
| Shipping Weight | | 0.6kg (1.2lbs) approx. |
Downloads