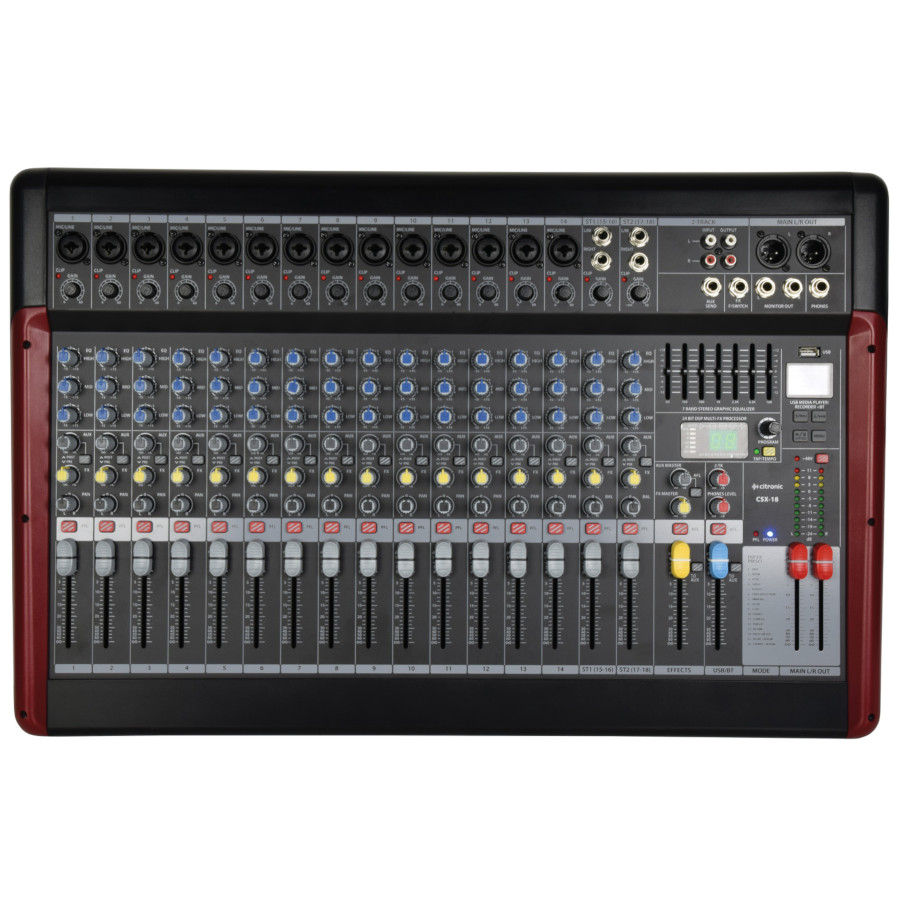 Compact 18 Channel Mixer with Blue Tooth and DSP Effects
Item Code : CSX-18
Special Notice: To order only item, please confirm sale price and delivery.
Special Notice: To order only item, please confirm sale price and delivery.
Product Details

Audio Mixers
Citronic - Compact 18 Channel Mixer with Blue Tooth and DSP Effects
Item Code: CSX-18
Brand: Citronic
Manufacturer: Citronic
Description
CSX Live Mixing Console with BT and DSP Effects
Fully featured live mixing console with 14 mono mic/line inputs on XLR/jack.
2 stereo line jack inputs.
All channels have gain, 3-band EQ, switchable pre/post aux output, FX send, pan, PFL switch and 60mm channel faders.
Phantom power is switchable to all XLR inputs for condenser microphones and active DI boxes.
Internal effects take the form of a 16-program 24-bit DSP engine with independent level fader and AFL switch for monitoring.
An inbuilt media player can accept a USB memory stick for playback of stored audio tracks and can also record the mix output for documenting rehearsals or performances.
Blue Tooth wireless compatibility enables pairing with a smart phone or tablet for remote playback.
Global EQ is handled by a 7-band graphic EQ and the overall mix is fed from master faders to left & right balanced XLR outputs.
A 2-track RCA line input has a level control for mixing in a playback source.
2-track RCA output can be connected on to recording equipment or as an additional output feed if required.
Low noise and clean audio path with enough features and routing options for live performances, conferences and theatre productions.
Features
Integral USB player/recorder with BT receiver
24-bit DSP effects with 16 programs
14 mono balanced XLR/jack inputs
2 stereo jack inputs
7-band graphic EQ
Switchable +48V phantom power
Images CSX-18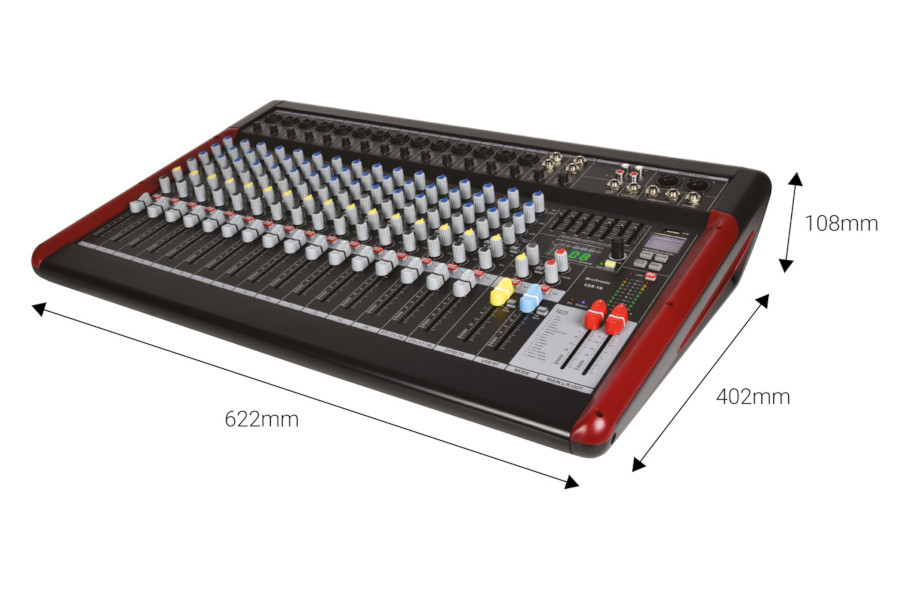 Specification
Power supply
100-240Vac, 50/60Hz (IEC)
Fuse
T3AL @ 230V / T6AL @ 115V
Power consumption max.
30W
Input level
+24dBu (mic/line),
+20dBu (stereo line) max.
Phantom power
+48V globally switched to XLR inputs
EQ:
high 12kHz ±15dB (shelving)
mid 2.5kHz ±15dB (band pass)
low 80Hz ±15dB (shelving)
2-track
L+R RCA,
4k Ohm,
-2dBu
EQ master bands (all in Hz)
63,
160 ,
500,
1k,
2.5k,
6.3k,
16k
Output level (max)
+26dBu (XLR),
+20dBu (TRS jack)
Output master
XLR balanced,
75 Ohm,
+4 dBu,
Max.+22 dBu
REC output
L+R RCA,
<75 Ohm,
-2dBu
Headphone impedance
30-600 Ohms
DSP effects processor
24-bit sigma-delta,
64/128 times over-sampling,
40kHz
Frequency response
20Hz - 30kHz (-0.5dB)
Channel crosstalk
>82dB
CMRR
>75dB (Mic @ 1kHz)
THD +N
<0.01% (Channel to mix out)
Noise rms :
22Hz-22kHz EIN -122dBu,
Residual output ?-90dBu,
Main/Aux mix ?-82dBu
Dimensions
622 x 402 x 108mm
Weight
6.3Kg
Downloads