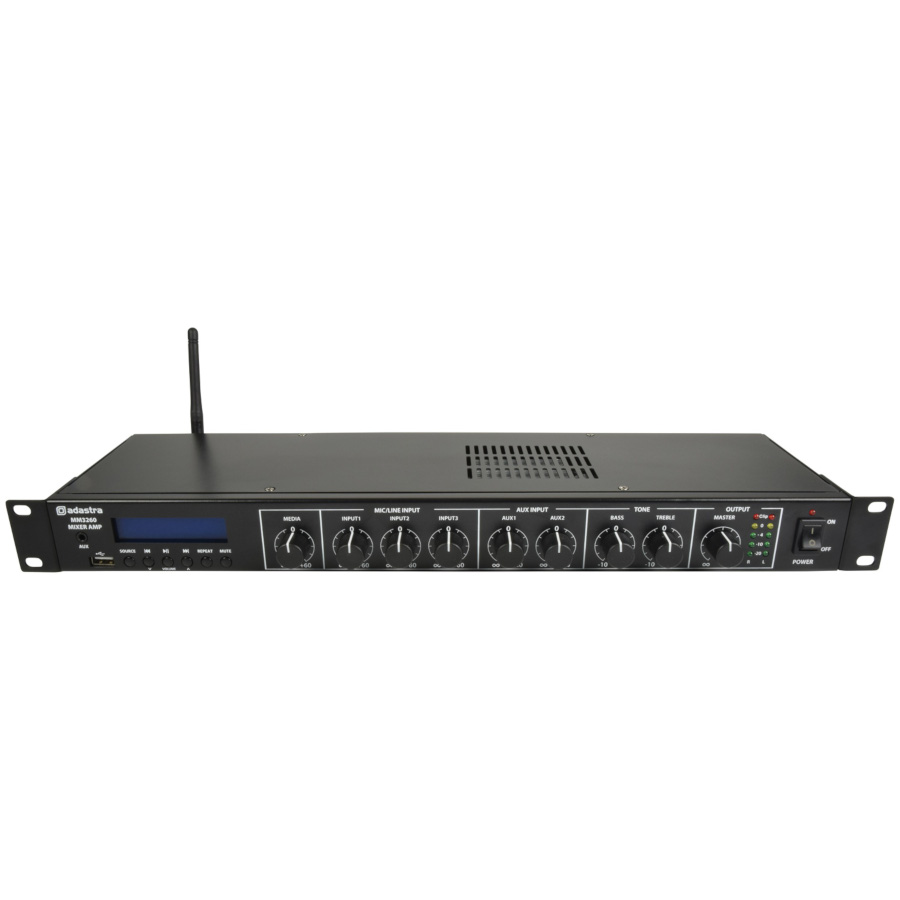 1U 60Watt Stereo Mixer-Amp with USB-FM-Blue Tooth : adastra MM3260
Item Code : MM3260
Product Details

Stereo Mixer with Low Impedance Power Amplifier
adastra - 1U 60Watt Stereo Mixer-Amp with USB-FM-Blue Tooth : adastra MM3260
Item Code: MM3260
Brand: adastra
Manufacturer: adastra
Description
Rackmount 1U Mixer-Amp with USB/FM/BT - 2 x 60W
Rack-mountable 1U mixer-amp with built-in media player and Bluetooth receiver.
3 mono inputs connect via XLR microphone or line input (switchable). Each of these inputs has switchable +20V phantom power for use with condenser microphones or D.I. boxes and channel 1 has a variable priority function.
Two stereo auxiliary line inputs are provided on RCA connectors with a stereo record output.
Media player operating modes include 3.5mm Aux input, USB audio player, FM radio tuner and Bluetooth receiver for playback from a smart phone or tablet.
Main left and right speaker outputs are connected via Euroblock style screw terminals.
Line Output signals are fed to L+R XLR outputs providing connectivity onto further amplifiers for larger installations.
Perfect for local area background music and announcements or connected onto further amplifiers for larger installations.
Features
2 x 60Wrms into 4 Ohms
Built-in Bluetooth receiver
Media player with USB playback and FM tuner
Switchable +20V phantom power
Variable priority muting for channel 1
24V emergency mute contacts
Images of MM3260

Specification
Power supply
100-240Vac, 50/60Hz (IEC)
Fuse
T2AL
Output power
4 Ohms 2 x 60Wrms
Inputs
3 x mic/line XLR (bal/unbal),
2 x aux L+R RCA,
1 x 3.5mm jack to media player.
Audio source
Bluetooth receiver,
USB player,
FM player.
output
Line out L+R XLR,
Record out (RCA),
Speaker outputs L+R
screw terminal (Euroblock).
Emergency control
24V contacts mute all
except channel 1
Phantom power
+20V (switchable channels 1-3)
Controls Media
3 x Mic/Line,
2 x Aux,
Treble,
Bass,
Master level.
Rear panel controls
Priority muting level,
mic/line,
phantom DIP switches.
Input impedance
2.2k Ohms for mic and line,
10k Ohms for phono aux.
Frequency response
20Hz - 18kHz for Microphone,
14Hz - 20kHz for Line,
10Hz - 23kHz for Aux.
Input sensitivity
-45dBV for mic/line,
-10dBV for aux/line.
Signal to noise ratio
55dB for mic,
60dB for aux/line.
Dimensions
482 x 130 x 44mm
Weight
1.96kg
Downloads